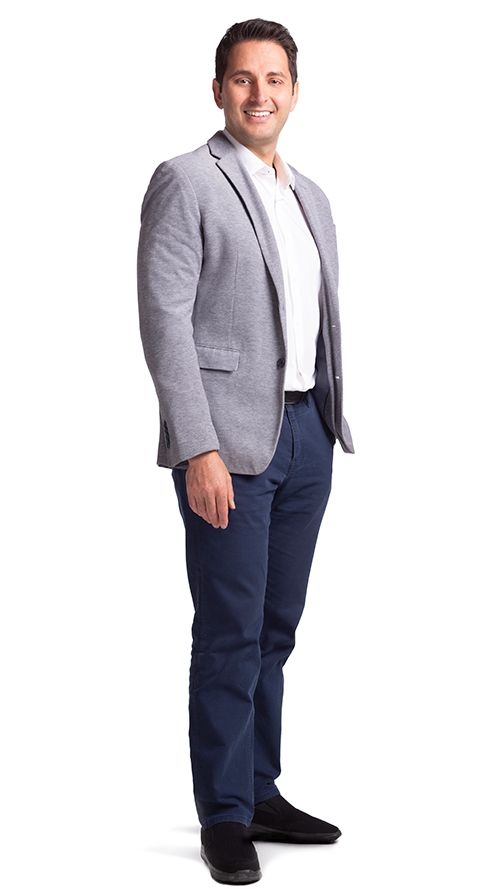 Q: What's your favorite thing about being a pediatric otolaryngologist?
I like solving problems, and pediatric ENT tends to lean more towards "see problem—fix problem" though there are plenty of complex cases out there to keep things interesting. Also, I see myself as a "big kid" that easily connects with children. This helps to alleviate any nervousness they have about visiting the doctor's office.   
Q: Can you share your best success story from treating a patient?
It's hard to choose one, but probably the most rewarding one was where I performed a procedure to correct a 2-month old's noisy breathing (laryngomalacia). Prior to the surgery the baby girl had very noisy breathing, abdominal retractions, poor feeding, and was losing weight. After the surgery the noisy breathing resolved and the baby began gaining weight again. The parents were so genuinely happy and thankful that they were crying tears of joy—I just remember feeling lucky for having the chance to make that kind of impact in their lives.  
Q: Has the COVID-19 pandemic changed or altered ENT care? If so, how?
Definitely. In regards to pediatric ENT there has been a significant decline in pediatric volume mainly due to the fact that kids aren't congregating together and getting each other sick! Kids naturally pass germs between each other at daycare, school, and social gatherings. The pandemic put an end to all that with a corresponding decrease in ear, sinus, and tonsil infections, and thus pediatric ENT consultations. 
Q: What myth do you often have to debunk about ENT care?
Ear tube drainage should be treated with topical antibiotics drops as first line therapy, not oral antibiotics (as I see so often prior to the patients coming in).  
Q: What advice would you give your younger self (before becoming an ENT)?
Be ready to work hard, understand the sacrifice you're making for the opportunity to help others, and be flexible. It's a tough job on many different levels, but that's the price you pay to have the privilege to make a positive impact in patients' lives.  
Q: How did your time volunteering in both Cambodia and the Ukraine performing ear surgery shape the way your care towards patients today?
Those patients and their families were just so grateful to be receiving any care let alone from an American medical team. They were putting all their hope into our hands and it reinforced the importance of humility. It was also another reminder of the distinct privilege we physicians are given to make an impact in each patient's life. I remember these lessons when treating my current patients. 
Q: How would you describe your own methodology and approach to pediatric otolaryngology?
I think just being compassionate and a good listener go a long way—both to the child and the parent. Recognizing each patient as an individual and recognizing that their problems and issues are unique helps to keep me on my toes and not fall into patterns. 
Q: What are some favorite activities you enjoy outside of work?
I moved here in October 2020, so I've tried to get outdoors as much as possible. I've been skiing at Heavenly a lot this winter. My wife and I also have gone on many hikes around Lake Tahoe and we're planning to be at the beach a bunch this summer.  
Q: What is your go-to ENT doctor joke?
Doctor: Nurse, how is that little girl doing who swallowed 10 quarters last night? 
Nurse: No change yet.  
Yeah, it's cheesy… 
Q: If you could eat only one thing every day for the rest of your life, what would it be?
Pizza! It's something where I can change the flavors…is that cheating?  
Q: If not a pediatric otolaryngologist, what else could you see yourself doing?
An architect. That's what I thought I would do in college, until I realized I'm terrible at sketches.
Q: Anything else to share for the curious out there?
My wife and I are expecting our own little baby girl this coming May!