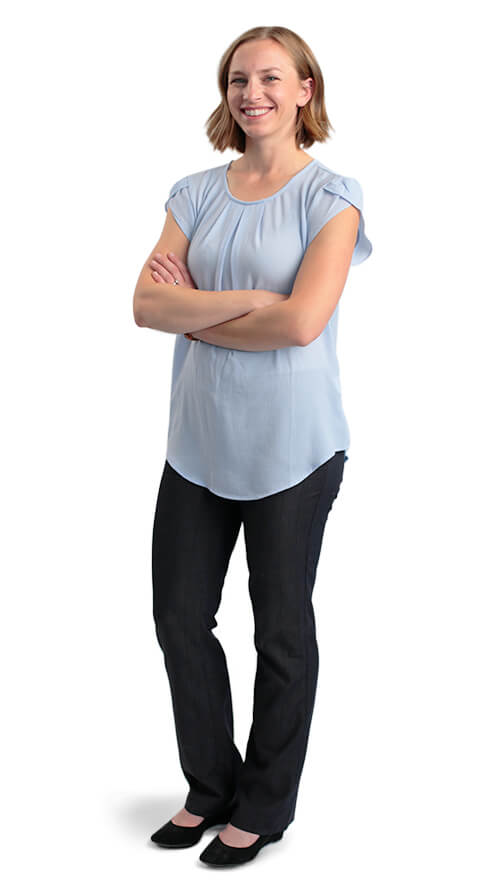 Dr. Justine Anderson, Physical Therapist
Dr. Anderson knew from an early age that she wanted to be a physical therapist. She was a competitive Irish dancer in high school and injured her ankle dancing. She ended up needing surgery and physical therapy. At the same time, she had an assignment to write about someone in the medical profession, and she chose to write about her physical therapist. That assignment and her positive experience in physical therapy inspired her to pursue the profession. 
She went on to receive her undergraduate degree in kinesiology with a minor in psychology from the University of Texas at Austin in 2010. In 2014, she earned her doctorate in physical therapy at Rocky Mountain University of Health Professional in Provo, Utah. 
While obtaining her doctorate, one of her instructors was a vestibular physical therapist – someone who specializes in the inner ear. Once she started learning about the inner ear and its connection to balance, vision and overall health, she knew that this was the area of physical therapy she wanted to pursue.  
Today, Dr. Anderson specializes in vestibular rehabilitation at Sierra Nevada Ear, Nose & Throat and helps patients experiencing dizziness, vertigo and imbalance. She loves hearing her patients' stories and being part of their healing journey. 
Dr. Anderson is a member of the American Physical Therapy Association (APTA) and the Vestibular Disorders Association (VeDA). She is certified as an ImPACT trained physical therapist in concussion management and is also certified with the LSVT BIG program for the treatment of Parkinson's Disease. In her free time, she enjoys running, hiking and playing with her son and two dogs.