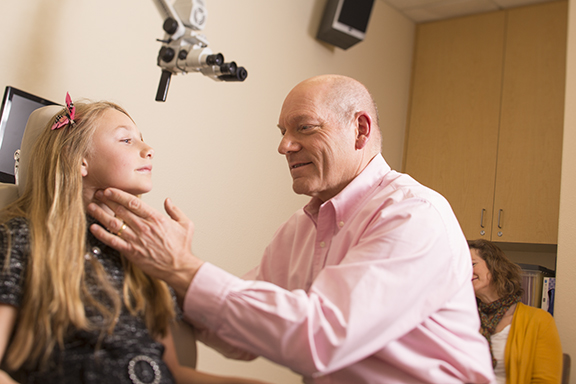 It is not unusual for good physicians to be appreciated by their patients. But when a physician combines exceptional medical skill with a truly compassionate approach, he becomes truly beloved by his patients. Such is the case with Dr. Paul Manoukian, M.D., M.P.H., founder of Sierra Nevada Ear, Nose & Throat (SNENT) in Carson City.
In the age of the ubiquitous online review, Dr. Manoukian has garnered near perfect star ratings on healthcare review sites. He was named "Best Medical Specialist" by the readers of the local paper, "Best Doctor" by a regional hospital system, and received the "Patient's Choice Award" on an online healthcare search site.
So, how does one become a 5-star rated physician?
Step 1 — Be really good at your job
This Carson City native is truly skilled when it comes to his craft, due in part to Dr. Manoukian's impressive medical education. His training highlights include Tufts University School of Medicine, Harvard University School of Public Health, the Sorbonne in Paris and The Johns Hopkins Hospital (rated #1 ENT Residency program by Resident Physician, Business Wire and Becker Hospital Review and #3 ENT Hospital by US News and World.)
However, skill only begins in the classroom. It is refined with experience. During his 22 years in practice, Dr. Manoukian has stayed on top of medical developments in otolaryngology through continuing medical education while honing his surgical and clinical skills. Among his areas of expertise are sinus and allergy evaluation and surgery, thyroid and parathyroid surgery, and pediatric ear nose and throat.
To his patients, Manoukian's medical skill is vital because it improves their way of life. One female patient had been through a lot before she found Dr. Manoukian. She shared on Healthgrades, "Dr. Manoukian identified my melanoma tumor when six other respected doctors did not. I found him to be dedicated, caring, personable, smart, well versed in his field and empathetic. In a word — stellar."
A patient on vitals.com noted, "For the first time, after dealing with five other doctors, I feel like there is some light at the end of the tunnel. Dr. Manoukian was very professional, very thorough, and gave me the sense that he really cared whether I got my problem solved."
And that takes us to the next step in becoming a 5-star rated physician.
Step 2 — Care about your patients, deeply
More than treating a specific ENT condition or disease, Dr. Manoukian sees his role as caring for people. That deep sense of caring and compassion, often called bedside manner, is not a skill taught in medical school. It is inherent in a person — or it isn't. Dr. Paul Manoukian seems to define compassionate caregiving, as many of his patients attest.
Fallon patient Jeanie Ford explains, "His concern [regarding] my entire being was beyond the minimum exam. [He was] so kind, I got teary.…Great ENT, thorough, very caring — like the old days."
Taking time with patients during appointments seems a quaint, outdated idea in the modern healthcare era, but it is one of the ways patients judge physician satisfaction. Physicians rushing through appointments is a frequent patient complaint, but is not an issue for Dr. Manoukian.
Patient Karen Copp reports, "Dr. Manoukian is very patient, explains the procedure in a language you can understand." She adds, "He is very thorough. I've always had a wonderful experience with Dr. Manoukian and he know his business."
So, skill and caring are great starting points, but there is one more element required to make a stand-out physician.
Step 3 — Be passionate about what you do
Armed with an exceptional medical education and a caring approach, Dr. Manoukian could have gone anywhere to practice medicine. There are bigger, more affluent places than Carson City. He chose to return to his hometown to care for his community.
For more than two decades, he has provided patients throughout northern Nevada with comprehensive care, best summed up by Yelp reviewer and patient Carolyn C., "Dr. Manoukian has been my ENT for over three years. He is a wonderful doctor. He is an extremely knowledgeable, highly skilled and organized physician. He takes a systematic approach to diagnose and treat and gets results. He is always on time, explains everything to the patient and is very personable. The Carson Valley is extremely fortunate to have a doctor of Dr. Manoukian's quality available."
If you or a loved one have ear, nose or throat health concerns and would like to make an appointment with Dr. Paul Manoukian, contact our office at 775-883-7666.
Dr. Manoukian's recent awards include:
2015 Nevada Appeal "Best Medical Specialist" 
2014 Vitals.com "Patient's Choice Award", "On-Time Doctor Award" & "Compassionate Doctor Recognition"
Barton Health "Best Doctor" 
5-star rating on WebMD
4.5-star on Healthgrades
4.5-star rating on Vitals
5-star rating on Yelp
5-star rating on UcompareHealthcare